Celebration in Okhaldhunga this week
Posted on March 12, 2012 under News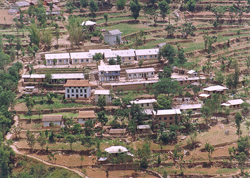 Hospital today

Fifty years ago, Dr Jimmy Dick and his team of four medical personnel tramped for seven days through the hills to establish a small dispensary in Okhaldhunga, in eastern Nepal. Over the years, this grew to include community health programmes, and a big rural development programme.

Now, Okhaldhunga Community Hospital provides wide-ranging preventative and curative health service across the district. But things are getting crowded at the hospital, and so the team has embarked on an ambitious building programme that will see its capacity extended to 50 beds, and better facilities all round.

UMN is proud to join with the people of Okhaldhunga and the current hospital team in remembering the contributions of the pioneers, celebrating the achievements of 50 years of service, and looking forward with confidence to an exciting future.






Watch a Photostory about Okhaldhunga Hospital





Click here

to download PDF of 50th Anniversary booklet.





Read stories from the early days of UMN's work in Okhaldhunga below.



Click here to read more about

Okhaldhunga Community Hospital

.



Photo Gallery:




Related News: