Give Sixty for Sixty
UMN's 60th Anniversary Appeal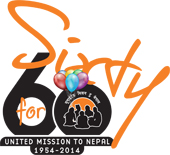 For sixty years, UMN has been serving the people of Nepal, in the name and spirit of Jesus Christ. Join us as we celebrate that milestone, conscious of God's presence with us over that time, and confident that He will continue to work through us in the future.

Give 60 - $60, £60, €60 or more - to help UMN's work help families and communities in Nepal that struggle with poverty.

Click to find out what your donation could do!
How to give:
Make out a cheque or money order payable to United Mission to Nepal.
Include a note stating how you would like your donation to be used.
Post it to UMN, PO Box 126, Kathmandu, Nepal.

Use your credit or debit card and give via PayPal.

Click on the Donate Now button below the area you wish to donate to.
You will be redirected to the Paypal page. Use your Paypal information to donate from your Paypal account.
Or click on Don't have a Paypal account? to make a payment using your Debit/Credit card.