Okhaldhunga Community Hospital
Background:
In the early 1960's, a Gurkha soldier extended an invitation to a physician in the British Army to start a medical project in the Okhaldhunga District. From its beginnings as a small remote clinic, it has grown into a medium-sized community hospital of 50 inpatient beds, with plans to expand towards a 100-bed hospital in the future. It also hosts a Community-Based Rehabilitation program and a School of Nursing.
Nestled in a remote region of the foothills of the Himalayas due south from Mount Everest, the hospital is a referral centre for Okhaldhunga District and additionally serves people in the surrounding districts, accounting for a population of more than 250,000. The hospital provides primary hospital services, particularly in the areas of adult medicine and surgery, maternity, paediatrics and orthopaedics. When patients require more specialised treatment they are referred to a larger centre – most commonly Kathmandu, Nepal's capital.
Patients and staff:
Last year (2020-21) we saw over 28,000 outpatients, admitted 5,000 patients and performed over 2,000 surgical procedures. In non-COVID years it has reached 36,000 outpatients and 6000 inpatients. Surgical procedures depend on the surgical skills and experience of the medical staff at any time. The surgical procedures here consist of
emergency life-saving surgery
like caesarean sections, other obstetric emergencies, laparotomies, and trauma surgery including orthopaedics, in addition to minor surgery. It is a general practice level hospital. Nonetheless, a wide range of surgical procedures are done. There are 125 staff working across the hospital, Community-Based Rehabilitation program, and the Okhaldhunga School of Health Sciences.
We have six medical staff: a medical coordinator, two senior MDGP doctor posts and three junior doctor posts. This is also one of the more remote hospitals where general practice / family medicine doctors are trained for their district posting. These residents are trained in basic general surgery, obstetrics and gynaecology, paediatrics, emergency medicine, and basic anaesthesia. They come to Okhaldhunga for rotations of three months. For jobs and expatriate volunteer opportunities, see our
Join us page
.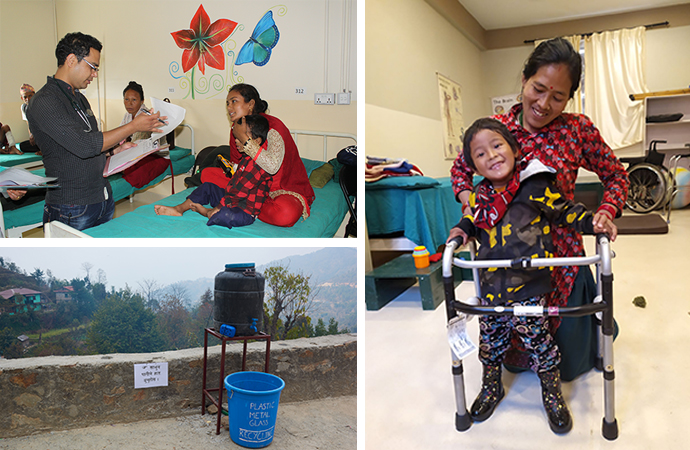 Friends of Okhaldhunga Archives: