10k Mental Health Fun Run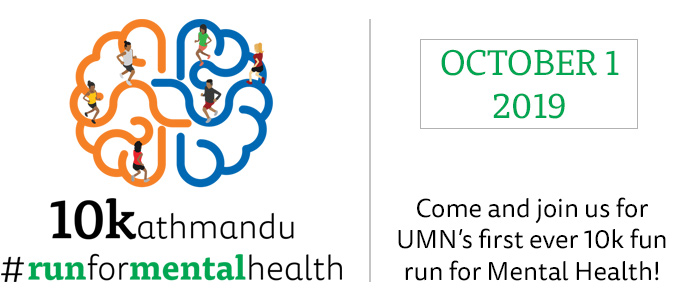 When:
Where:
In Lalitpur and Kathmandu. Starting in Jawalakhel
and finishing at UMN headquarters in Thapathali,
via Sanepa and along the Bagmati river.
Who can take part?:
Anyone! Staff, school students (secondary), college and university students, friend, family...
Not in Kathmandu or Nepal?
You can join by doing a
virtual run
from where you are!
How to book:
Booking deadline: Tuesday 17th September (end of Bhadra month)
T-shirt provided.
Entry fee Rs100
Why:
Depression, suicide, anxiety, self-harm…
Every year thousands of people in Nepal - 1 in 4 - are affected by mental health problems like these.
Mental illness can affect anyone. Millions of people around the world suffer from it. Maybe you or someone you know has been affected by suicide or other mental illness? The groups that UMN works with - people living in poverty and those most neglected and marginalised - are particularly at risk of mental illness.

Due to the stigma and discrimination associated with it, people often do not talk about it, nor do they seek help.
This run is a chance to raise awareness of mental health problems and to encourage people to get help.
This year's theme for World Mental Health Day (on 10th October) is "Preventing Suicide".
Did you know, in Nepal:
Nepal's female suicide rate is the 3rd highest in the world?
Suicide is the leading cause of death among women of reproductive age (15-49 years)
Every year more than 5000 suicide cases are reported.
In the last 4 years, there has been a 13% rise in suicide rates.
But, Suicide is Preventable.
Have a look at these websites:
Suicide Hotline Numbers in Nepal:
16600 122223 (Free for NTC Users, Managed by Mental health Promotion and Suicide Prevention Centre)
9840021600 (Managed by the Department of Psychiatry, Teaching Hospital)
16600 102005 (Free for NTC Users, Managed by Transcultural Psychosocial Organization Nepal) Operates: Monday-Friday 10 am-4pm
Nepal Police 100
FAQs
Can I volunteer? – Yes! We will need people to help set up the route and signs and take them down. Also to give out water and direct people on the route. Find out about volunteering.
Are you raising money? – The purpose is to raise awareness of mental health needs. So we want lots of people to take part and raise awareness. But the nominal entry fee will go towards our mental health work.
I live in another city/ country. Is there any way I can take part? – Yes! You can run where you are and share your story with us. Join our virtual run!
Can I walk it? – Yes!
I have a friend who's interested. Can they join? – Yes, just send them the link to this page and ask them to complete the booking form.
Are there lots of hills? – Not really. It's mostly downhill and then flat. There will be a slight hill at the end coming up to UMN headquarters at Thapathali.
How long will it take me? Running could take 50-70 minutes. Walking all the way would take around 3 hours (according to Google maps).
Will there be any water? – Yes, we will provide water along the way.
What about first aid? – We will have first aid kits at 3 sites along the route, as well as volunteers more regularly who can phone for help if necessary.
Is there a prize?! – The first three runners through the gate will get medals. Refreshments will be available for everyone at the end. And you can keep the T-shirt!
I have more questions. – Please contact Ruth at 10k@umn.org.np
Share now: