Virtual 10k run for Mental Health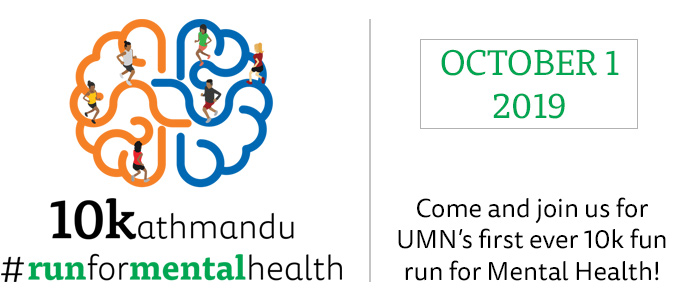 Join us by doing a virtual 10k run in your place or country!
We're running to raise awareness of Mental Health, particularly suicide prevention. Suicide is the leading cause of death among women of reproductive age (15-49 years) in Nepal.
For more reasons why we're running, please see the main
10k run
page.
Maybe you'd love to join us and raise awareness of Mental Health too, but you don't live in Kathmandu valley or even Nepal? No problem, you can register and run where you are, and share your story with us and the world!
UMN staff and friends of UMN are running on Tuesday 1st October. It would be great if you could join us on that day, but if not, you could run any time from 27th September to 8th October.
Please book as soon as possible so we can post you a t-shirt! (It could take 2 weeks to reach you.)
Also, please share your run with us!
Before the race, can you tell us why you're running – a 30 second to 1 minute video would be great! Or you can write it.
On the day, please take a photo of you in your running gear, holding the poster we'll send to you, to show you're joining in the race. Any questions, please contact
Ruth
at
10k@umn.org.np
Share now: