UMN Calendar and Christmas Card
Dear friends,

Warm greetings from Nepal!
With the cooler breezes we know the seasons are turning and the celebration of Christmas is coming. As we continue to serve the poorest of people living in poverty, we reflect how in Christ God, while living on earth and coming to bring fullness of life to all, was willing to experience poverty, being born in an animal shed. As you gear up for your own celebrations, we want to let you know about the creative gifts we've prepared for the season. We've designed beautiful Christmas cards using our unique original design made from Nepali lokta paper – the third in the series. And as always, the 2020 calendar includes stunning photographs from across Nepal alongside Bible verses.
Your order of one of these items would make great gifts for loved ones and help us to impact more lives – bringing fullness of life to all in a transformed Nepali society. What a gift! Thank you.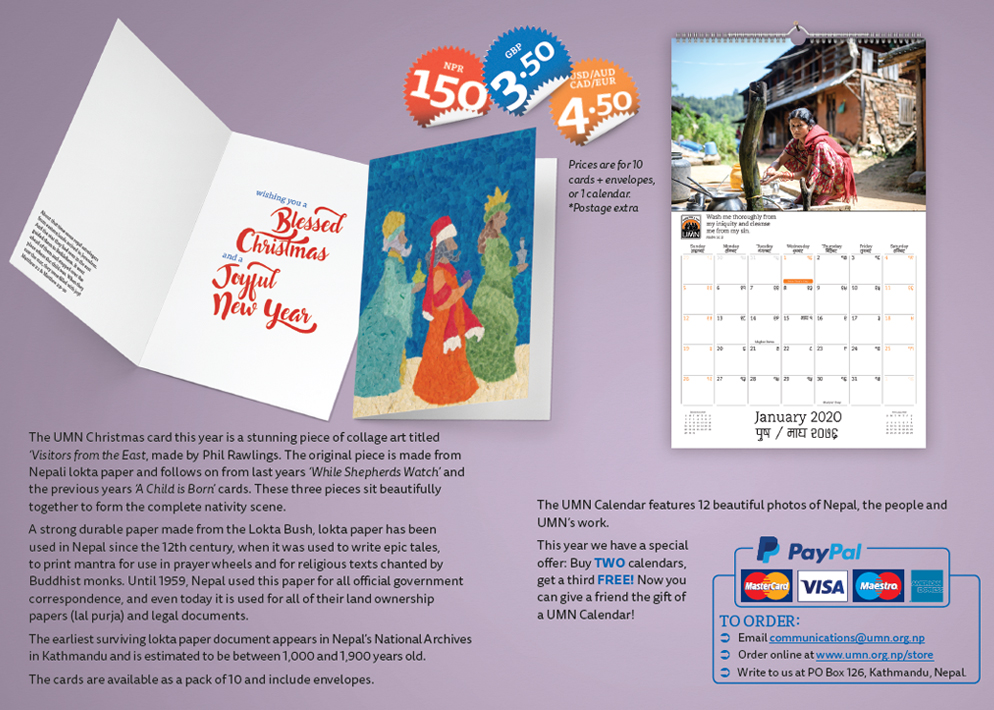 Order and Pay Online:
Enter your quantity and currency under the product you want to order and click on Add to Cart.
Fill in all your details correctly and click on Proceed Your Order.

After this we will receive your order and you will be notified through the email you supplied.

If you want to pay instantly via Paypal, Credit Cards or Debit cards, please click on Pay with Paypal button.
You will be redirected to the Paypal website.
Use your PayPal information to pay from your Paypal account.
OR click on Pay with a debit or credit card to make a payment.

Order via Email:

Email communications@umn.org.np with your order. You will receive an invoice with your ordered products.