COVID-19 responses in our clusters
Quarantine, isolation and health centre support
Hundreds of quarantine centres needed to be created at short notice in Nepal, for the thousands of returnee migrants. Hundreds of isolation centres are being created for those becoming infected because they are usually feared or shunned by their families and communities and normal living arrangements mean people are usually unable to self-isolate.

Through our clusters and local partners, UMN has been supporting local governments in our working areas to manage quarantine and isolation centres (and health centres) safely and successfully. We have provided supplies to prevent spread of the virus and to ensure good hygiene and even food, to encourage people to stay. Allocation was always done after consultation between our cluster team leaders, local partners and local governments. See the table for details of the support provided:
District
Support included
Bajhang
Food items and hygiene materials, expected to reach or benefit 100 families through 10 quarantine centres of Thalara Rural Municipality.
Dhading
22 beds, 25 personal hygiene sets, PPE and handwashing station. Materials were handed over to the local governments of Galchhi and Neelakantha for Baireni and Bensi quarantine or isolation centres.
UMN's Dhading Disaster Response Programme
Provided 18 medical assistance packages including PPEs to Ruby Valley Rural Municipality (RM) in Dhading. These resources were provided to the RM's health post, police station, ward office and municipality office. The distribution was carried out through two of UMN's partners.
Doti
Our partner supported Badikedar Rural Municipality in mid-May 2020 with supplies to prevent spread of the virus alongside other materials to support the quarantine management such as blankets, tarpauline etc. These were being used to manage all the quarantine posts and check posts of Badikedar.



In early August 2020 UMN's partner mobilised around NPR 500,000 (approx. USD 4,234) to buy health and safety materials like sanitiser, masks,

handwash liquid, PPE and other items for four quarantine centres and Jorayal

Rural Municipality's two health facilities. With the support, 26 health

workers engaged in the health facilities and quarantine centres and 22

people staying in the quarantine centres benefitted.

In total 25 quarantine centres in Doti have received support through UMN partners.

Mugu
UMN is a member of the Isolation Management Committee of Mugu and there are five isolation centres set up so far. Through our local partner we supported isolation centres through Mugum Karmarong, Soru and Chhayanath Rara Municipalities including 50 bedding packs, towels, plates, water bottles and water tanks. Later the resources will go to local health posts.
Nawalpur / Nawalparasi
Support given to the local government in Hupsekot for the health workers, staff providing services and people staying in quarantine. Materials given included 79 Virus Collection Tube kits and 47 mosquito nets as well as masks, gloves, soap and PPE.



Between June and October 2020 we provided health and safety material support to 13 local health facilities and two rural municipality (RM) offices of Palhinandan and Pratappur RMs (using a budget of around NRP 573,701, approx. USD 4,870). This support helped to enable continuation of regular health services from local health facilities in the COVID-19 situation.

We also provided COVID-19 related technical training for 35 female community health volunteers of four local health facilities and did wall painting for COVID-19 awareness.

Rukum
In the first week of July, UMN supported the local government of Rukum East and West Districts to equip 21 local health facilities and three quarantine centres with essential supplies for COVID-19 prevention and protection. Our partners distributed many items including thermal guns, oximeters, water-tap buckets, PPE sets, soap, sanitisers and masks.

Some of the rural municipalities of Rukum are geographically hard to reach due to monsoon and road disruption. With support of local partner staff and volunteers helping to carry items by foot, it was possible to deliver the materials to the health facilities (see photo).
Disaster preparedness, COVID-19 awareness publicity and broadcasting
Sharing messages to raise awareness about COVID-19 is an essential step towards prevention. Sometimes this has been through leaflets and banners, but other times by broadcasting messages through radio or through large speakers where there is no radio service. These audio messages are particularly important when there is still a high illiteracy rate among some groups. In some cases it's also necessary to translate the messages into a local language!
District(s)
Activity
Details
Bajhang, Mugu and Rukum
Translation for audio broadcast
UMN's partners coordinated with the local governments to translate the official coronavirus awareness and prevention messages into local languages for broadcast over the radio (or sound systems), reaching remote villagers in their own mother language.
Dhading (DDRP)
Printed materials and radio broadcast
Through the DDRP project, UMN printed materials for awareness raising to the community on COVID-19 and distributed to local governments.

For radio broadcast UMN, in coordination with local partners and local radio stations, developed public service announcements to broadcast from three local FM stations, three times a day for three months.
Doti
Printed materials and radio broadcast
Our partner is disseminating Covid-19 related information to the community by broadcasting on FM and through printing banners.
Mugu
Printed materials and sound system broadcast
Through two local partners we printed 1,100 Pamphlets and 1,260 flex banners for awareness-raising on coronavirus, for Soru and Mugum Karmarong Rural Municipalities. Through our partner we also provided 15 sound systems to broadcast COVID-19 prevention messages in Soru and Mugum Karmarong across 11 wards where there is no FM radio coverage. A pre-recorded broadcast message in the local language is shared twice daily from different places in the villages, then community mobilisers and youth volunteers share further messages by microphone about COVID-19 and other community education matters (see story with photos).
Nawalparasi
Disaster preparedness
One of our partners in Nawalparasi has worked for years to form Church Disaster Management Committees in different wards of Hupsekot Rural Municipality. They are now mobilising those committees to work in coordination with local government to prevent a coronavirus outbreak in Hupsekot.
We always seek to support and bring fullness of life to the most marginalised members of society. This has included providing food supplies for:
118 families from the Dalit Community (members of the so-called low caste community) in Bungal Municipality, Bajhang, including single women, people with disabilities (PWDs) and daily wage workers received food essentials and soap, while pregnant women also received nutritious food items, baby clothes and sanitation kits. The beneficiaries were selected in coordination with the local government and UMN's partner. One quarantine centre also received food and essentials such as soaps and masks for 12 people living in quarantine.

501 of the poorest families in three municipalities of Dhading (see the news story).


17 poor Dalit* families in Chhayanath Rara Municipality of Mugu.

In Kapilvastu, UMN's COVID-19 response project gave relief support to 176 families including old people, single people and those living with HIV, where the packages were expected to alleviate the difficulties currently faced by families and to restore their livelihoods and food security for at least a couple of weeks.

300 ultra-poor families in the two rural municipalities of the Community-Based Rehabilitation project in Okhaldhunga (see details below).


In Okhaldhunga, our five-year Community Based Rehabilitation (CBR) project, which was just launching to support people with disabilities, has revised activities and reallocated budget for the current global Covid-19 pandemic season. In conjunction with the local government we recently purchased and distributed rice, lentils, oil, salt and soap to ultra-poor people who are unable to get food to survive in our current lockdown situation (see photos). In our CBR working areas of Molung and Khijidemba Rural Municipalities, 150 families in each (300 families in total) were selected from one of these groups:
People with disability and their families (doing day to day labour work to sustain their family).

Pregnant women and new mothers (where their family are very poor).

Single women and older people (who have no-one to support them at home).

Ultra-poor labourers (landless people, working for daily wages).
We also reached 150 people with Covid-19 awareness sessions during this distribution – through community orientation sessions and door to door visits.
* So-called low caste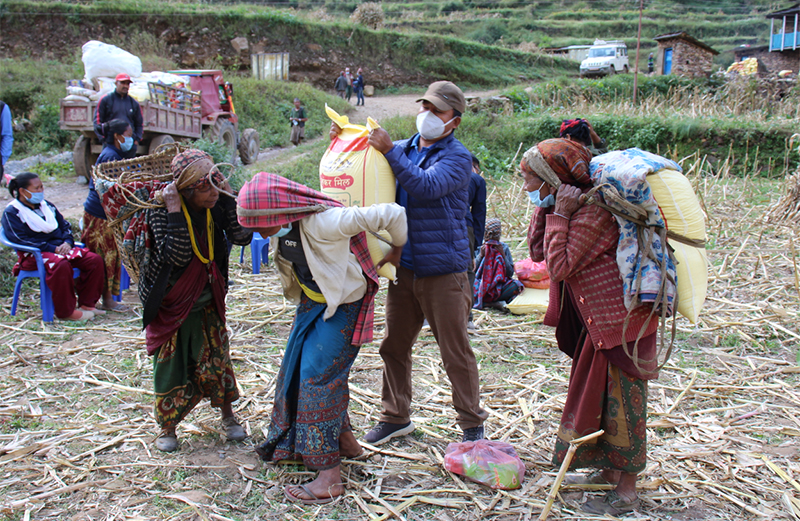 In Rukum East (see photo above), 181 of the most vulnerable households of Putha Uttarganga Rural Municipality were supported with food items in coordination with our partner. With no road access and due to its remoteness, it took a week starting from 6 October 2020 to distribute the food packages for 721 people including people living with disabilities, single men and women. Awareness banners about COVID-19, child protection, domestic violence and child marriage were also displayed and oriented at all the distribution locations.

Livelihoods support
2021 – See the special Livelihoods and environment issue of UMNews from March 2021 which includes stories of how we have responded to livelihooods needs during the pandemic.
In Bajhang, through our partner, three children and 15 adults with profound disabilities were selected to receive goats and a goat shed for their families as livelihood support, prompted by the COVID-19 crisis. They also received awareness training and supplies to protect against COVID-19. You can find the full story with photos from the latest news on our website.
Resarting business in Kapilvastu – Jasibun, 50, who supports her family of 17, was able to re-start her business which had been closed for six months due to lockdown and also received training to grow and sell high-value, off-season vegetables. Now she is a model farmer and a shopkeeper in her community. (Read more here.)


A COVID-19 community response project in Nawalparasi helped community members like Sabitri to raise an income from a business. With the support of UMN's partner Sunawal Community Development Centre,Sabitri received a second-hand moving cart to start up a small business which was worth NPR 15,000 (approx. USD 127) to sell Chatpate,a popular snack in her village. She is now earning NPR 500 (approx.USD 4) per day by selling the Chatpate snack. Her income has helped her to buy cooking essentials for her family.
2021 – See the special Education issue of UMNews from May 2021 [Coming soon!] which includes stories of how we have responded to education needs during the pandemic.

In connection with the United Nations (UN) Education Cluster we are involved in creating several self-learning resources in Nepali – for children in Early Child Development and throughout Primary Grades. Some are based on government textbooks and curriculum; some require no books. These resources could also be used by students for self-study in any other future pandemic or disaster situation when they are unable to gather to attend school. We are involved in three groups of resources:
Early Child Development (ECD) age to Grade 3 – the UN Education Cluster is to develop home-based learning activities for children of the youngest age group. UMN will be involved. The materials produced will be available in the department of education.



Publication of Self-learning activities book for Grade 4 to 8. These materials, compiled by UMN, have been shared with the AIN (Association of International NGOs) Education Working Group, UN Education Cluster and Government. There are 76 activities which are not based on textbooks that children can study and perform in their homes. It is available online as a pdf and the plan is to distribute to all education projects once it's printed.


Grade 6 - The UN Education Cluster has asked UMN to lead the development of distance-learning education material for Grade 6, as part of a national plan to develop self-learning materials based on the government's textbooks and curriculum for each unit and lesson from Grade 4-8. It is a major responsibility and very positive that UMN's education work has been valued in this way. The materials will help schools across the country, including community schools in our clusters, to cover the disruption to education caused by COVID-19.
Rukum radio for schools!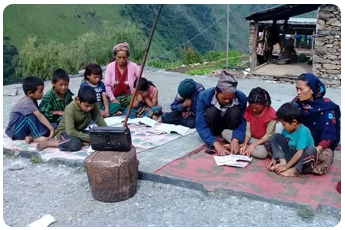 UMN's partner in Rukum coordinated with the teachers who teach in Kham language (the native language) to motivate them to run classes through the radio. UMN's partner also financially supported the broadcast costs and the teacher's payments. Around 75 % of the 1,610 targeted students from 25 schools in Putha and Bhume Rural Municipalities have resumed their classes by joining them through the radio since the first week of July. Students of Grade 1 to 3 now sit around the radio and learn in their mother tongue. (See the full story.)