Mental Health Support
Did you know, in Nepal:
Less than 10% of people with mental health problems are receiving professional support. 1
Nepal's female suicide rate is the 3rd highest in the world?
Suicide is the leading cause of death among women of reproductive age (15-49 years) 2
1 in 5 children and adolescents suffer from mental illness, but there are only two child psychiatrists in Nepal!
Nepal has 3.5 psychiatrists per million people (Norway has 480 per million) 3


Needs for mental health support
The groups that UMN works with - people living in poverty and those most neglected and marginalised - are particularly at risk of mental illness.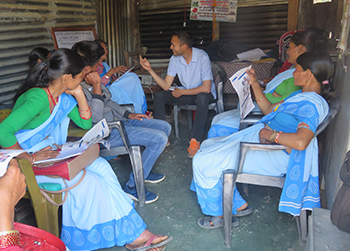 False beliefs and practices surrounding mental health in Nepal sometimes include:
Those suffering being locked in a cage

Mental illness being blamed on a person's misdeeds in their present life or a past life
Due to the stigma and discrimination associated with it, people often do not talk about mental health, nor do they seek help.
Mental health support and access is limited:
Some people live several days' walk from the nearest mental health specialist. Their family often can't afford to send someone to go with them, leaving their work on the land.

There are few professionals trained in mental health


What we do
Our mental health work in five districts includes community intervention such as:
identification and referral of mental health problems

community sensitisation

stigma-reduction activities
We help build the capacity of local health facility staff in mental and psycho-social health and help to integrate mental health care services into existing health care systems.

More stories:
To learn more about Mental Health needs in Nepal and UMN's work in this area, please see our "Rays of Hope" booklet, available to download from the resources on our website at
How can you help?
Please help us meet gaps in our funding towards this life-saving and life-bringing work as we seek fullness of life for all in a transformed Nepali society.
$20 can fund placards for a village rally addressing mental health stigmas

$70 can educate family members of 5 people living with mental illness on care and support

$150 can provide a refresher training for 20 village-level health volunteers

$150 can provide seed funds for one person to start a small business

$300 can train 1 paramedic in basic mental health services

$500 can provide supervision for 3 trained Psychosocial Workers
Please specify 'Mental Health' when making a donation.
Recent training and quotes
Health workers – 25 new workers from Bajhang, Dhading, Doti, Rupandehi and Rukum who have recently transferred to our working areas received basic mental health training in Butwal. These health workers are then equipped to provide basic mental health services at their local rural facilities, especially pharmacological services.
Quote from Health workers-
"I have been working in health sector for 14 years but had only heard about depression and anxiety. We had such cases at the health facilities and I would be scared and felt incompetent to deal with such cases. But now we have been treating people with these problems. Now people know our work and they come to us. We don't have to go and call them."

For 13 psycho-social workers and partner staff responsible for mental health support from our working areas, in response to the increasing trend of suicidal cases in our working areas, we added two extra days of training on suicide prevention to their regular supervision training.
Quote from our psychosocial workers-
"It makes me happy when the community knows me by the work I do with mental health. Whenever they see people with mental health problems, they say 'look your patient is here'. This gives me a sense of satisfaction."

In partnership with Mental Health promotion and suicide prevention centre we held a talk on mental health and substance use for musicians in Kathmandu, attended by 39 participants.

More than 150 Female Community Health Volunteers (FCHVs) from our working areas were trained on using a Community Informant Detection tool. If they find people with symptoms similar to those in the training case stories they can now recognise their need and refer them to the local health facility.
Teachers orientation/training-
"We have heard about mental health slightly before but with this training, we know much more in detail. We have learned that treatment is possible for mental health problems. We will now refer people to health facility."
Most of the viewers expressed that disgracing people with mental health problems who are already in such pain is so inhumane and should be stopped right away.
---
1 Luitel et al. 2017, Treatment gap and barriers for mental health care: A cross-sectional community survey in Nepal. PLoS ONE, 12(8)
2 Source: http://www.nhssp.org.np/NHSSP_Archives/gesi/Suicide_report_2011.pdf
3 Source: http://apps.who.int/gho/data/ for 2016