NEWS
Gearing up for better safety
Posted on January 17, 2018 under News
Natural disasters like earthquakes are inevitable, but preparedness for safety should always be top priority. Eighty-four years ago, Nepal witnessed a major loss of lives and property in the 1934 earthquake. Again in 2015, the history repeated as the mega earthquake caused a havoc in the lives of many. To commemorate the earthquake of 1934, various activities have been organised nationwide to mark 16 January as the 20th Earthquake Safety Day (ESD). The day has been declared to put focus and confirm commitment of the nation to review and come up with better preparation and strategies to cope with such natural disasters in the days to come.
Supporting the cause, UMN's partner Nepal Abinash Social Service Organisation (NASSO) together with Devdaha Municipality Disaster Management Committee celebrated the 20th National ESD by organising an orientation programme on National Building Code to 43 newly elected ward level chairperson and other members of the community people. The orientation was facilitated by the technical person of the district, Eng. Bhimarjan Pandey in Rupandehi.
It was also followed by a street drama on earthquake preparedness at Devdaha, Birtha, where haat bazaar (weekly market) takes place. More than 250 people who are frequent visitors of the market observed the event.
UMN's other partner Isai Samaj Nawalparasi (ISN) also celebrated the event in collaboration with Guhari Disaster Management Committee by carrying out a rally displaying placards with earthquake preparedness messages.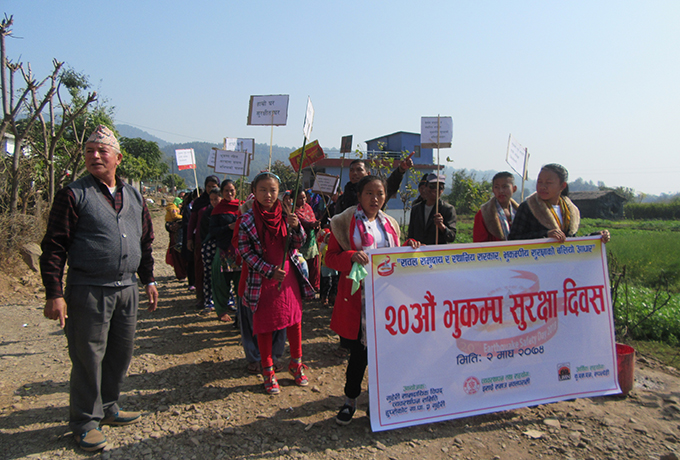 ---
Post your comments!