NEWS
Okhaldhunga's oxygen and PPE birth
Posted on October 6, 2020 under News
Everyone needs oxygen and a hospital needs even more, to support patients with breathing issues including some newborn babies. And our oxygen need is important with COVID-19. In UMN's Okhaldhunga Community Hospital, an urgently needed oxygen compressor (see photo) was finally replaced a week ago, after a lot of prayer, hard work sourcing it and a journey delayed by landslides. The original part broke in August, an engineer couldn't fix it and so we had to source and wait for a new part. We need the compressor to push oxygen through pipes in the building and to refill oxygen cylinders. Without it, some support like CPAP* for newborns was restricted – we couldn't support two babies at once. Our staff have to work with this constant challenge of treating patients when it's hard to access resources, especially during a pandemic and monsoon. However, even while we were still short of oxygen, we are relieved that one COVID-19 patient with bad pneumonia recovered after a week on oxygen support (given via oxygen concentrator).
Meanwhile, we recently rejoiced in the sudden arrival of new life in the isolation ward. One COVID-19 positive woman was heavily pregnant at the time of admission into our COVID-19 isolation, and went into labour the very night she arrived! Our nursing staff Kabita and Hasila (see photo below) did a brilliant job in managing her delivery at 2.30am while they wore full PPE. We are so thankful that we had planned for this possibility by creating a separate delivery area and operating theatre in the COVID-19 isolation area. Mother and baby were healthy on discharge. Subsequently, the nurses also tested negative. So, it looks like our PPE process and precautions are holding up so far. We give thanks for provision and seek ongoing prayers for our staff and patients with the pressures they face.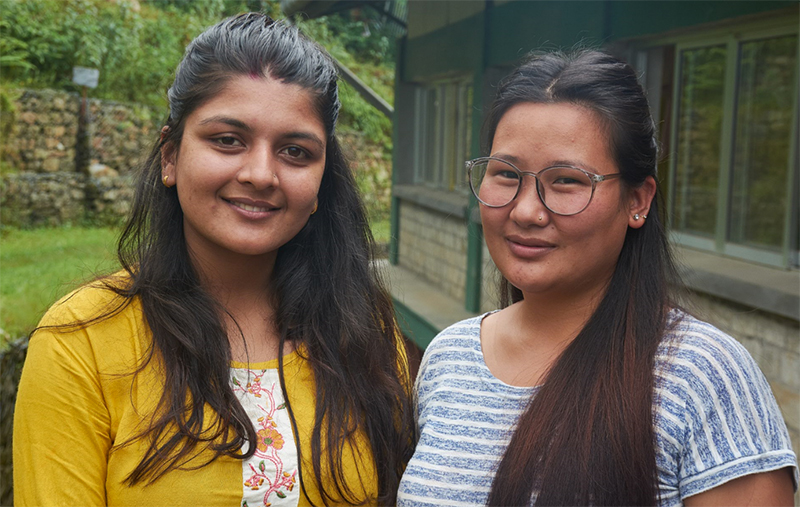 *Continuous Positive Airway Pressure
---
Post your comments!