Bikalpa
Nawalparasi | Province 5
History and Key Successes of the Organisation
A Brief History of the Organisation
BIKALPA is a non-Government, non-political and non-profit making social organisation established in 2000 and registered in District Administration Office, Nawalparasi under the Association Registration Act 1977 (2034 BS) of Nepal by local youths.

BIKALPA initiated its journey from informal education in Nawalparasi district. The main aim of the organisation is to promote sustainable development through enhancing the capacity of economically poor and socially backward and excluded indigenous people, women and Dalits.

It is comprised of a diverse and experienced team of members. It works in partnership with Government organisations, national non-Government organisations, International non-Government organisations, private and community based civil society organisations as well as donors at local, national and international level.
Key Successes and Achievements of the Organisation:
The organisation has developed the required policies and procedures which are revised as necessary on a regular basis so the organisation is well run;
The organisation has built good relationships with local Government line agencies and external resource providers so it is being able to mobilize resources to uplift the lives of community people;
Forty one members have been found to have established and use kitchen gardens regularly in Daunnedevi and Rupauliya VDCs in Nawalparasi;
Twenty nine farmers have produced and sold 435 Kg of mushrooms to make a total income of NRP 87,000;
A diesel pump and deep boring were supported in Daunnedevi and Rupauliya VDCs in Nawalparasi and they are now able to irrigate more than 12-8-0 of drought land this year.
Organisational Strategic Information
DAO Reg. No. 545/2056
SWC Affiliation No. 9049
PAN No. 303599322
VAT No. 303599322
Vision
To establish a prosperous, just and environmentally sound society.
Mission
To empower a marginalised people to improve their lives through economic and social programmes. To mobilise local resources in coordination and partnership with its stakeholders.
Goal
Reduce inequality and injustice.
Purpose/Objectives
To empower indigenous people, women, Dalits and marginalised communities so that they can increase access to better education, health and optimum income generation;
To create opportunities for better livelihoods through networking and co-ordination with the concerned stakeholders;
To build local capacity in order to conserve natural resources and preparedness with mitigation systems that they could reduce the effect of climate change and the risk of disaster;
To advocate for the rights of women and children so that they can have a life of dignity.
Core Values
People centred participatory development; Equity and Social Justice; Sustainable Development; Co-ordination and Relationships.
Geographic Areas Covered
Special focus in Bardaghat Municipality and Tribenisusta Rural Municipality.
Target Beneficiaries
Women and children, socially excluded and backward people, poor and the most vulnerable child and adolescent girls, people with disability (PWDs), Dalits, senior citizens, single women and orphans.
Thematic Focus
Livelihood, Education, Climate Change & DRR, WASH, Community Health.
Networks and Affiliations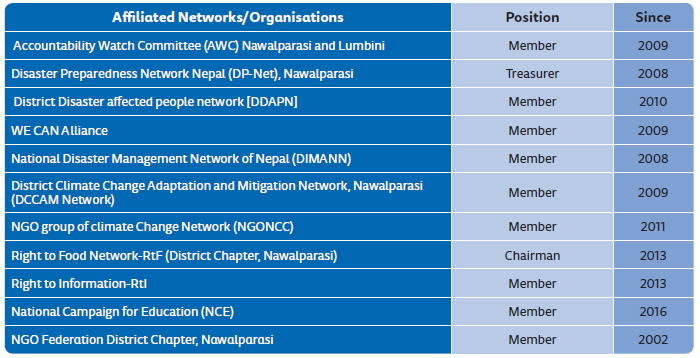 Member and Staff Diversity

Current Partnership/Donors (maximum of three)

Phased Out Projects (maximum of three)
Organisational Growth
Contact Details

Rupauliya, Nawalparasi


078-400117

bikalpa.nepal@gmail.com

www.bikalpanepal.org.np


Chetnarayan Chaudhari, Chairperson

857060179

gurau.cn@gmail.com

Saroj Kumar Gautam, Programme Co-ordinator

9847472179

saroj.bikalpa@gmail.com
Last Updated: September 2019
---
Post your comments!