Small Farmers Agriculture Cooperative Federation Ltd. (SFACF)
Dhading | Province 3
History and Key Successes of the Organisation
A Brief History of the Organisation
The Small Farmers Agriculture Cooperative Federation Ltd., Dhading (SFACF-Dhading) was established in 1996 as an autonomous, Non-Governmental Organisation, registered with the Division Cooperative Office, Dhading. SFACF is an umbrella organisation and the governing body for all the Small Farmer Agriculture Cooperatives (SFACLs) from the Village Development Committee (VDC) level. Since 1996, SFACF has grown rapidly, focusing on replicating the SFACLs in the new VDCs. It has aimed to provide research, capacity strengthening and technical support to its member organisations. SFACF has been supporting institutional capacity building, improving agriculture production, lobbing with concerned bodies and promoting saving and credit activities for SFACLs. It has also been involved in skill based training, gender equality, sustainable agriculture, awareness raising activities, market access for farmers, promoting organic farming and network development of SFACLs for over 20 years. The organisation is dedicated to the capacity building of all the SFACLs.
Key Successes and Achievements of the Organisation:
It has been working right across the Dhading District and currently has 52 Small Farmer Agriculture Cooperatives, with 38,500 members;
It has established clear organisational policies and procedures and is using them properly;
It has been a leading voice regarding national level issues concerning farmer's rights and unification among Agriculture Cooperatives;
It has improved the promotion and management of Cooperatives.
Organisational Strategic Information
DAO Reg. No. 226/053-54
PAN No. 304222636
Vision
Develop the Federation as a capable organisation to deliver financial and non-financial services to small farmer cooperatives, so that the socio-economic condition of the small farmers will be improved.
Mission
To provide quality services to member cooperatives and develop the organisational capacities of member cooperatives.
Goal
To improve the standard of living of small farmers.
Purpose/Objectives
Enhance the capacity of small farmers and cooperatives to strengthen their institutional systems;
To provide financial and technical support for the small farmers cooperative to uplift the socio economic status of rural farmers;
To promote the value of chain services and explore market linkages.
Core Values
Basic Values:
Self-help, self-responsibility, democracy, equality, justice and discipline.
Ethical Values:
Integrity, openness, social responsibility and help to others.
Geographic Areas Covered
Dhading District (2 Municipalities and 11 Rural Municipalities).
Target Beneficiaries
Small Farmers especially female farmers and farmer's group.
Thematic Focus
Livelihoods.
Networks and Affiliations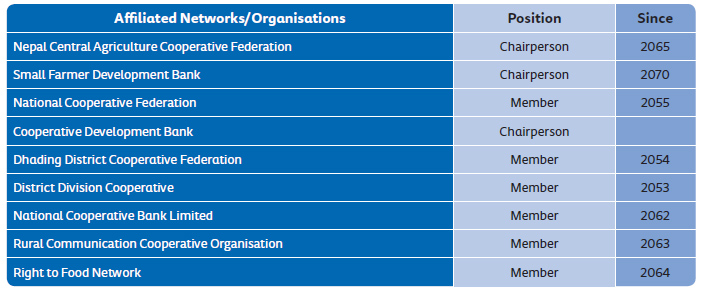 Member and Staff Diversity
Current Partnership/Donors (maximum of three)
Phased Out Projects (maximum of three)
Organisational Growth
Contact Details

Dhadingbesi, Dhading


010-520403

info@sfacfdhading.org

www.sfacfdhading.org



Shiva Bahadur Bhandari, Chairperson


9841594903


sfacfdhading@gmail.com


Shyam Kumar Shrestha, Manager

9841850438

shyaaps@gmail.com

Sita Devi Khanal , Field Manager

9841065357

sfacfdhading@gmail.com
Last Updated: September 2019
---
Post your comments!