SAVE OUR HOSPITALS APPEAL
Thank you, our hospitals are saved!!
We are delighted to share that this appeal has been successful –
our Hospitals are saved!
Thanks to the prayers and generosity of hundreds around the world, by February 2021 we had received NPR 141,482,242 (approx. USD 1,205,215) towards this campaign, including NPR 1,132,937 (approx. USD 9,500) from the Christmas appeal. This generosity, combined with fewer lockdowns and COVID cases, meant that our losses were less than originally estimated and have now been covered by the funds donated.
The hospitals are very grateful to everyone who donated to keep them serving in this time of pandemic and financial need. Thank you and thank God!
The initial need (from March 2020)
UMN has two hospitals - Tansen and Okhaldhunga - serving up to 150,000 patients a year in their rural districts. Up to 80% of our hospital income comes from patient fees for outpatient services and elective surgeries. From March 2020, long before COVID-19 reached our hospitals, patients stayed away (initially through fear of contagion, then also due to the lockdown and lack of travel). We saw a severe shortfall in patient income – a reduction of 80-90%! That was over USD 300,000 per month during lockdown. Without new sources of income for salaries, our hospitals faced the potential of needing lay off staff - just when we most needed to scale up for coronavirus response.
Our
Save our Hospitals
video shows the huge challenge we faced:
This poster shows how the sudden shortfall arose: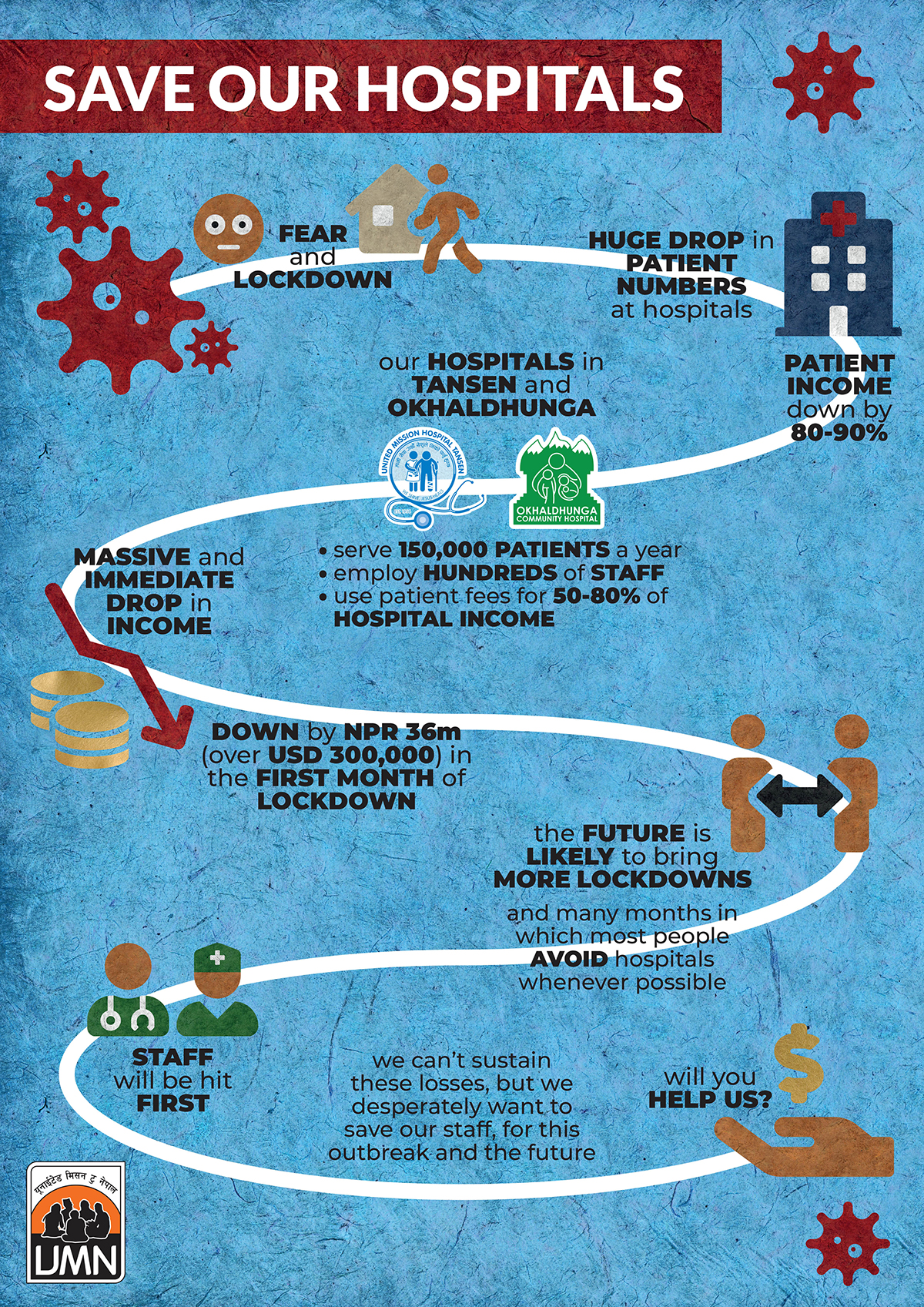 Amazing response (October 2020)
We are so thankful that by October 2020, with enormous support and generosity from around the world we had received over USD 1 million to Save our Hospitals.
Thank you
again to all those who have so generously supported UMN's hospitals at this time! This has been vital in helping us to keep the staff in place and pay the bills so that we can continue to serve whoever comes and especially patients with no other options of healthcare. The initial risk to our finances and fears around COVID-19 have passed - our hospitals are still running and serving.
Final stage (from November 2020)
Despite the return of patients, we still estimated an
outstanding shortfall of USD 500,000
for our hospitals (out of a total of USD 1.5 million for the year from April 2020). So we continued to seek support from friends and supporters around the world, old friends and new.
Towards this, we made our
Christmas Appeal
for the hospitals, with examples of the regular costs involved for our staff and caring for COVID patients. Thanks to your generosity, we raised a further NPR 1,132,937 (approx. USD 9,500) since 1 December 2020, which, combined with increased patient numbers, covered the rest of our remaining needs. Praise God!
We are so grateful to the hundreds of people as well as groups, churches, organisations and large donors who gave so generously, sometimes several times, to keep our hospitals going in the middle of a pandemic!
If we raise more than is needed for the hospitals to cover our losses,
here are our priorities for using the funds in response to the impact of COVID-19
.