CASE STORIES
So That All Can See God's Love
Story from Sunsari under Integral Development
Pastor Khagendra Thapa (right) with his wife and two children
Khagendra Thapa pastors a congregation of about 70 believers in a remote village in North Morang, Nepal. After participating in the integral mission workshop organised by UMN in 2008, he considered how he could demonstrate God's love for the poor in practical ways. He shared his vision with his church, who readily agreed to help him. They started a small fund of NRS 13,500 (USD 180). The church committee selected six poor families from the village, only two of whom were Christians, and lent NRS 2000 (USD 27) to each of them.

They bought baby goats and piglets, and dedicated all their efforts to multiply the 'gift' received from the church. Within six months, all of them returned 50% of the loan, and the church selected three more poor families to support. "Poverty is a big issue in our village," Khagendra said, "and I will not rest until I can show them how much God cares for them. We cannot address this issue alone, but we can make a difference in the lives of a few people by contributing in a small way. We will not limit our services only to Christians, so that all can see God's love and concern is for everyone."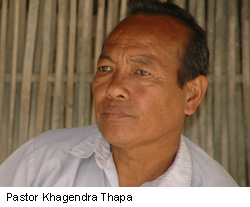 Khagendra has been instrumental in working towards a river embankment project, which will protect the entire village from monsoon flooding. He is excited by how God has transformed him, and the way he used to share his faith. He prays that his church will continue to find small ways to demonstrate God's love.
---
Post your comments!