CASE STORIES
New Hope from New Peacebuilders
Story from Dhading under Peacebuilding
Namaste Youth Club members plan their strategy
Ten years of conflict and instability in Nepal have severely affected many kinds of local and national processes, including the resolving of disputes.

For the majority of the Lapa people in North Dhading, there was no way to seek help or mediation in community disputes. As a result, many disputes have remained unresolved for years, and some of these had in turn become violent. Living in such remote areas, they have to travel a long way to reach formal state judicial bodies and besides, these are too expensive and inaccessible for poor people.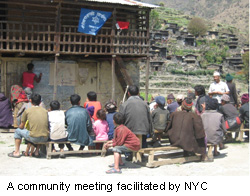 Namaste Youth Club (NYC), one of UMN's partner organisations, organised five days of peacebuilding training for 14 peace groups, which UMN had helped to establish. New peace-builders Ramba Ghale and Gagan Gurung from NYC are now busy helping to deal with many different types of conflicts in their community. People involved in disputes have been so impressed with their conduct and the procedures followed that they have established high levels of trust. People are very happy to have these types of services on their doorstep. NYC is contributing effectively to a more peaceful society, and is hoping to contribute much more in the future through ongoing work with UMN.
---
Post your comments!