CASE STORIES
Healing the 'Hero Book' way
Story from Nepal under Peacebuilding
Have you ever thought of making a book about yourself? "Hero-booking" is a great way to deal with personal challenges, and helps people better understand and respect each other. Anyone can "hero-book" - even you!

We proved it when a group consisting of staff from partner organisations, child club members, school teachers and even a headmaster all spent seven days drawing and painting, writing and story telling, singing and dancing. It was amazing to see how engaged even serious adult professionals became in the creative process of making a book about themselves. All worked and shared together, despite a wide range of ages, gender, ethnicity, caste and social status.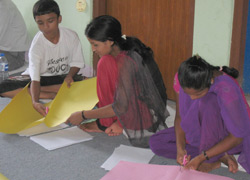 The twenty selected participants travelled from all over Nepal. They each made a book about their lives, leading them to self-reflection, problem-solving and the healing of past painful experiences. One participant worked through violence experienced during the national conflict, while another chose to focus on the challenge of living with HIV and AIDS.

The training was facilitated by Kopila Nepal, a Nepali NGO and UMN partner, that has used the "hero book" process successfully in several districts of Nepal. Our group of "hero-bookers" will use this process with school children, child clubs and the community groups they work with.

We can all be heroes - when we face the tough issues of life, and share openly with others.

---
Post your comments!