CASE STORIES
Everyone Wants To Be Beautiful
Story from Dhading under Sustainable Livelihoods
Reema at work in her salon
Everyone wants to look their best, and Nepali village women are no exception. They love bright colours, and wear glittering glass beads and bangles. They wash and oil their hair, braiding in flowers or decorations at festival time.

But now and then, a woman needs a visit to the beauty parlor! Reema Gurung dreamt of a salon for women in her small market town, Mahadevbesi, in Dhading District. Every day, women come in to the town, to sell vegetables, buy household goods, visit the clinic or attend school. Reema saw the potential. She attended a beauty parlor training program, but she had no idea of how to start her own business.

Fortunately, Chandrajoti Integrated Rural Development Society (CIRDS), a UMN partner, was running training programs on enterprise development. Now, Reema's salon is bustling with customers. Ten to 20 clients a day come by for hairdressing, skin treatments or nail care. They also select from her small stock of basic cosmetics.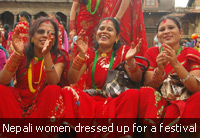 Reema's clients say: "We always wanted to look beautiful, but we couldn't go all the way to Kathmandu for that. Now we have your shop, right here where we can come easily when we are visiting the bazaar anyway, for other things." Reema is thrilled. She has a thriving business, doing what she enjoys.
Maybe you're thinking that helping set up beauty parlours is a bit frivolous for a development agency. There are lots of other stories I could tell: about the small grocery shops, tea stalls, mobile phone repairers, blacksmiths, candle-making groups, rabbit-raisers, tailors... The list is endless, because the initiative, creativity, persistence and skills of people struggling against poverty are endless. Because people dream dreams that aren't bounded by our priorities, and because women want to look beautiful, as well as feed their families and send their children to school. Because when Jesus invited us all to "live life to the full", he meant it!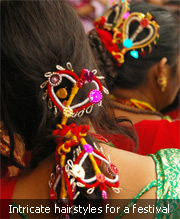 There's no "one size fits all" for micro-enterprises. Instead, there are limitless opportunities, just waiting for a chance to take flight.
Micro-enterprise - a great strategy for secure livelihoods, local economic growth, and fantastic hairstyles!
Story by Lyn Jackson
With thanks to Sangita Pudasaini, Dhading Cluster, who collected the information.
---
Post your comments!