CASE STORIES
Local Food is Best
Story from Rupandehi under Health
Ramnagina Gupta, a staff member of Bikalpa, one of UMN's partners in Rupandehi, recalls meeting little Bishal.

Bishal was 13 months old and moderately malnourished when I met him in April 2010, during a nutrition survey of children under five. I suggested a visit to the health facility. Later I participated in nutrition training arranged by UMN, and subsequently visited Bishal's home. His condition had not improved. His mother hadn't produced enough milk since his delivery, so they had given him lactogen and buffalo milk. From six months, he started to eat daal (lentils) and rice as well. His mother complained that he was always crying. They had visited medical facilities and even a traditional healer's home, and spent a lot of money, but he was still weak and not growing properly.

During my second visit, I helped them buy soybeans from the local market, and taught them to make sarbotham pitho (a combination of soya beans and other grains). At first, Bishal refused to take this flour, but slowly he started to eat it.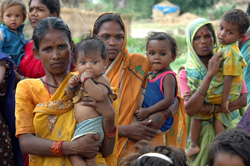 A month later I saw him again. He was playing, and looked very healthy. His mother said he was doing very well, and he didn't cry anymore. He was eating sarbottam pitho (superflour) regularly four or five times a day, and rice and daal too. Now he has became much healthier, and his family don't need to buy buffalo milk and lactogen any more. He is growing into a fine little boy.
PHOTO: Unfortunately, the only photo we have of this mother and child is very low resolution.
The two photos here are of a group of women at a nutrition training program.
---
Post your comments!