NEWS
Turning plastic waste into future use
Posted on January 7, 2023 under News
Plastic has become one of the biggest environmental challenges we face today. The rural areas of Nepal are also facing the same issue due to the development of roads, expansion of markets, lack of public awareness, and lack of waste management. In rural areas, inorganic solid waste is mainly generated from the packaging of junk foods and single-use polybags. Such waste produced may cause infection in human beings through pests such as mosquitos. Unmanaged plastic waste pollutes the freshwater in rural villages, while the plastic pollution problem also affects livestock when they consume plastics which can be toxic to them.
The remote rural municipality of Putha Uttarganga in Rukum East has also been facing the same issues with unmanaged plastic. As a result, the beauty of its villages is deteriorating day by day. In response, UMN's Sustainable Environment and Economic Development (SEED) project has carried out many awareness-raising programmes to minimise plastic waste.
Recently the project has explored and initiated some new ideas to repurpose plastic packaging waste generated mainly from junk food like noodles and biscuits. So, three days of training was provided to prepare some useful items like baskets, hats, measuring bowls (mana pathi), boxes, etc. It was a joy that the training was facilitated by a 65-year-old woman Dhan Raji Budha who was trained many decades ago when she stayed in India. A total of 26 people from 24 community groups (24 women and 2 men) participated. This training gives the community people hope to improve the sanitation of their villages and they have an action plan to teach their skills to their group's members, just like Dhan Raji passed her skills on to them after so many years.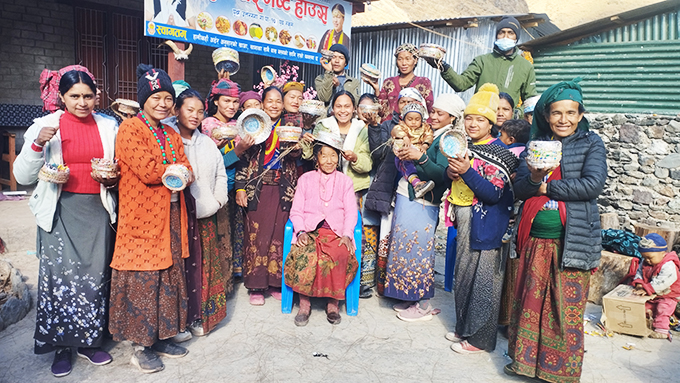 The participants show off their products, with their trainer Dhan Raji (centre, in pink)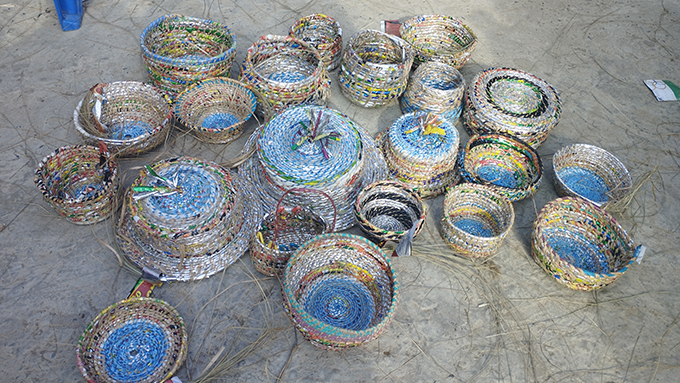 Items made during the training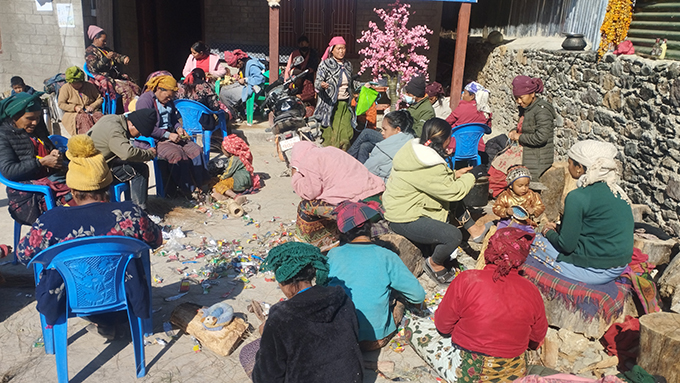 Everyone's hard at work!
---
Post your comments!