NEWS
Now we have clarity! - Conflict analysis for judicial committees
Posted on February 1, 2023 under News
To enhance the capacity of those new to carrying local judicial responsibilities, UMN provided Conflict Analysis and Role and Responsibility orientation workshops in three districts at the end of 2022.
These workshops were achieved in coordination with the district legal/judicial representatives, who kindly agreed to provide need-based support to the participants to resolve local conflicts in the coming days. They also suggested conducting this type of training in the other municipalities of their districts and a visitor from another district was also interested to replicate it there.
Background: After the local-level elections in May 2022, local governments were formed with newly-elected local representatives for all of Nepal's 753 municipalities (rural and urban). New judicial committees were also formed, to consider non-criminal cases at the local level. Through these 753 committees, justice can be accessible and cost-effective for local communities. Judicial committees can handle conflicts such as land disputes, trespassing of animals, use of community forest or robbery. They should not handle criminal cases such as domestic violence and child marriage, but through ignorance of their roles this has sometimes happened, running the risk of the judicial committee members being arrested!
Here are some highlights:
Rukum East
in coordination with the District Government Attorney's office and the Rukum East Assistant District Attorney Prakash Paudel on 30 November to 2 December 2022. Twenty people including 14 women participated in the workshop.
"This workshop really helped us to increase our knowledge and skill about conflict analysis and dealing with conflict cases strategically."
- Vice Chairperson of Bhume Rural Municipality
"This workshop became the cornerstone to heighten our knowledge and skill on conflict analysis. Thanks to UMN for providing such a wonderful opportunity."
- Prawesh Budha, Ward-14 Chairperson of Putha Uttarganga Rural Municipality
Mugu
In Mugu, the training was coordinated with the District Court and the honourable judge Dil Kumar Bardewa, on 18-19 December 2022.
This workshop was very helpful to us. We are newly elected, so we didn't have clarity about our roles and responsibilities, but now they are clear to us. We were handling the cases with our own understanding and capacity. We had no idea about which cases can be handled and which cannot. Now, our knowledge is enhanced. While handling conflict cases, if we have any problem, we will contact the honourable judge.
- Yen Bahadur Shahi, ward chairperson, Soru-2, Mugu.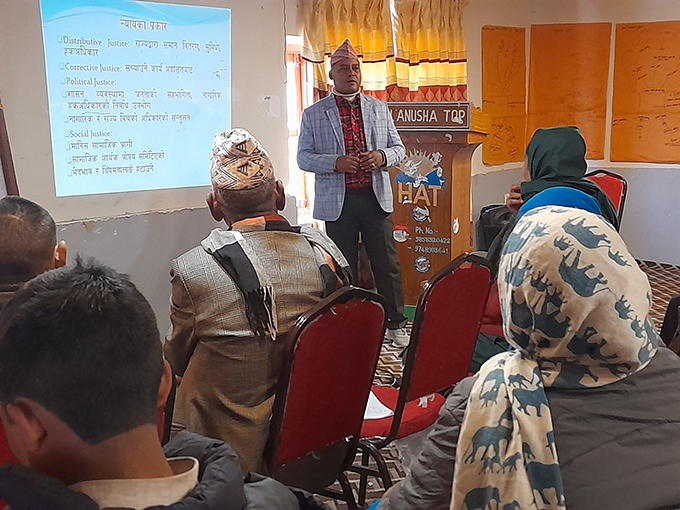 Bajhang the training was coordinated on 22-24 December with the District Bar Association and its chairperson Lawyer Mohan Bahadur Daulyal supported the facilitation process.
This training was quite helpful to internalise our roles and responsibilities. It helped us to know our limitations, i.e., which cases are not allowed to be handled by the judicial committee. Also, we gained practical skills in conflict analysis and its importance in resolving conflict.
- Parbati Karki, judicial committee member, Bungal Municipality-4, Bajhang.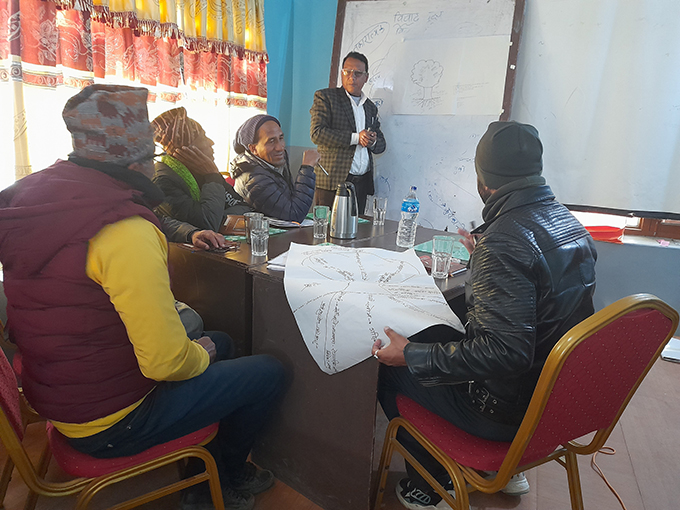 ---
Post your comments!